Playing on survival servers are the main activity of many Minecraft players. Wether on vanilla or modded worlds, you might want to rush for the ender dragon or the wither. Using servers will make multiplayer available, which is the best way to enjoy Minecraft the most. There are multiple ways to create minecraft survival servers, we will detail the most common ways to get one.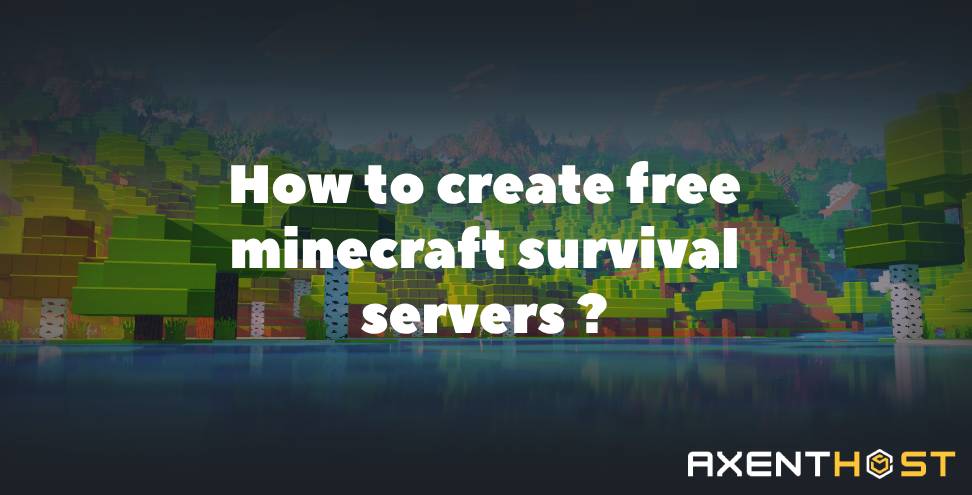 The hard way
You can choose to create a minecraft server directly on your own computer, but this will induce multiple problems :
Hardware limitations - Depending on your computer, running either Minecraft and your server might use too much resources
Network limitation - Your network might struggle with multiple connections. (depending how much players will join your survival server)
Technical issues - You will need some technical knowledge to create a minecraft survival server and handle possible bugs
Downtime - You have to keep your computer running for your friends to access your server
Security risks - Opening ports for your server access may expose your computer to attacks from the internet
If you don't worry about these problems, you can create your own server. To do so, we recommend reading the official Minecraft article.
This way will need to :
Download specific Java ".jar" files
Placing them in specific folders of your computer
Setting multiple parameters
Keep the computer running
There are multiple ways to host minecraft survival servers on your own computer, but you will rarely get any online support to help you. Tutorials might also be outdated since Minecraft is a well updated game.
If you don't want to struggle downloading files and handling server specifications, we recommend reading the next part.
The easy way
There are multiple minecraft server hosting platforms online. Since the hardest part is to make a choice between those platforms, AxentHost is providing free minecraft servers so you don't have to struggle.
Why use an online hosting platform ?
Server performances
Using an online hosting platform will give you a lot of benefits. First but not least, getting access to powerful machines will enhance your play time a lot. This will in fact speed up the server startup, chunks loading on the server side, and all the world calculations. All this will make you get even more FPS since you delegated some work from your PC.
Server management
Managing minecraft survival servers is very easy using a hosting platform. Those platforms will make it easier to manage your server since you will have to deal with optimized web interfaces instead of server files only.
Most of the things you will have to do is set all the needed properties, like the next ones :
The world seed
The server difficulty
Max amount of players
A server icon and description
And many more to customize your server !
Uptime and availability
You will also be able to manage your server from your phone since the web platforms are available from any device type. This will make it possible to start your minecraft survival servers from everywhere at any time.
The fact that you don't need to let your pc run to keep your server available when you are not home is a big advantage.
How to start ?
You can create a free server online in a glance using AxentHost. You just need to register on AxentHost , claim your free credits and start your server ! Choose the Minecraft game, confirm your server specifications and click activate to get your free minecraft survival servers !
AxentHost is not only a Minecraft server hosting platform, but is hosting multiple games using the same free credits system. This way, if you want to play another game like Terraria or Unturned, you can still use the same platform.
Default specifications
By default, you will get access to 2GB of RAM, 5GB of SSD with benefits :
Powerful CPUs. Dedicated DDR4 ECC RAM and NVME SSD
Scale your server RAM and Storage at any moment
Automated backups for no data loss
A web interface to get an easy access to the game server files
Bedrock and Pocket Edition (Minecraft PE) support thanks to the Bedrock server variant
Mods support
And much more great features to discover. You can get all the minecraft server properties on the Minecraft server presentation page.
Join your free minecraft survival servers
Once your server has been started, go to the server manage page. There you will find the server IP and the port. Copy the IP, launch the game and click "add server" in the multiplayer menu. Name your server, paste your IP and start playing with your friends !
Don't forget to send the survival server address to your friends so they can join your world !
Conclusion
While it is still possible to host a minecraft server at home, it is worth considering using a minecraft hosting platform for the ease of use.
Creating free minecraft survival servers has become easier with time. A lot of online solutions are now handling all the hosting related problems. This way, you don't have to struggle in your hosting journey. In particular if you don't want to face technical issues mentioned earlier, or even want to create minecraft survival servers for free, your choice should be AxentHost.
The recommended path to create your free minecraft survival servers would be :
Register on AxentHost
Claim your hourly free credits
Choose minecraft in the games list
Set your needed server specifications
Activate your server
Enjoy !